According to the 2011 census figures, apparently there are half a million Australians who work in the cultural industries – however that may be defined – and millions more who rely on it, read it, see it, listen to it.  Despite this we went to the election, and notwithstanding the grandiose words from the coalition's arts spokesman, George Brandis, there was no official arts policy – costed or otherwise.  No arts policy, means of course, there can be no claim to any mandate on subjects involving arts, culture and entertainment.  To be fair, George did generate some rhetoric about the arts prior to the election
but in terms of a concrete policy, especially in terms of costings or substance, there was a significant absence (and still is).  This was in particular, apparent, when pressed for a response, by Fairfax newspapers. In regards to their policy questions, the coalition's response was noticeably absent.
Interestingly, despite George Brandis being interned in a position of Arts Minister  .. and the Sports Minister …. and the Attorney General, there still is no specific government policy for the Arts side of his portfolio.  Given there was none before the election, there can certainly be no pretense of a mandate for the Arts. Not that I have ever being a fan of the "pretense", that political parties give to, what they describe as, "a mandate" – (given how fraught with selection bias, emotional manipulation, political jargon, narrow margins and mental lethargy exhibited by voters, that the election process manifests). Tony Abbott has certainly suggested he has a mandate for all manner of decisions he alluded to before the election and now is hell bent on implementing; but the Arts, have not attracted the coalition's attention.   Unlike "Science", they have at least chosen to assign a minister to it,  … well at least as one of his roles to the nation.  Certainly no "one to one" singular attention by a dedicated minister is on offering, so consequently limited attention is likely to be paid to it.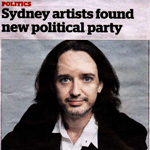 All the more reason for the emergence of a political Party in this climate that will indeed support the Arts agenda and develop policies in consultation with Artists, in the variety of "cultural industries" that exist in Australia.  "The Arts Party" is such an organisation.  It is not yet a registered Party, as it is still pursuing the numbers and funding necessary to get it off the ground and into the political arena.  Using a crowd funding site, the Art's Party is seeking to build the numbers it needs and the initial finance required to get it underway.  Ultimately, if you work in the fields of film, jour­nal­ism, archi­tec­ture, music, web design, photo retouch­ing, hair dress­ing , cook­ing, fash­ion design, illus­tra­tion, authors, direc­tors, act­ing, pho­tog­ra­phy, singing, prop and wardrobe design, dancers, acro­bat­ics, model build­ing, sculpture and any other manner of Artistic endeavour; then if you are expecting political support from the incumbent government; don't hold your breath.  Not only is George the only political support for this community, I haven't even to begin to list Australian Sports nor his legal responsibilities as the Attorney General.  The later duties which appear to be taking front and center, keeping secret Abbott's recent activities by denying journalists access to information.  As Clint Howitt noted of this later role, "Attorney general George Brandis has made it more difficult to obtain details of government decisions by tightening up the granting of Freedom of Information requests, making the procedure more convoluted and more expensive."
So perhaps George has other preoccupations than serving communities of artists – of which Journalists are a party to – and for whom he is busy denying them opportunities to do their job.  Of course, we can wait till the Coalition generates an Arts policy, it has given no pre-election promises for; appears to preoccupied with restricting freedom of expression for elements of the artistic community;  and for which there are no political lobby groups in existence seeking a quick resolution.  What do you think will be the coverage and significance of such a policy?  The liberals do have a page in which all their policies are outlined [http://www.liberal.org.au/our-policies], so by all means let me know where the Arts Policy is?
The alternative?  Try throwing your support into the – as of writing this – still unregistered Arts Party.   They hope to ultimately be in a position to raise the priority of Arts on the political agenda.  If you want that, then start  by going to http://www.indiegogo.com/projects/the-australian-arts-party/ and signing up.
What have you got to lose?  Other than a career? [Why, … is that important to you???]
Post Turnbull Appendum:
Since Tony Abbott's eviction, the Arts portfolio is yet again shared with other portfolios and still has not been given a singular advocate.  While Brandis has moved on, the policies of the party have not.  Senator the Hon Mitch Fifield has become Minister for Communications AND the Minister for the Arts. Still this minister has not found the time to draw up a policy for the Arts at the Federal level because one presumes he is busy with the mess the previous communications minister left behind him with the more expensively growing NBN policy and implementation. Aside from keeping Indigenous artistry and languages alive, the policies of cutting or dividing up funding for the Arts has continued uninterrupted. The Arts Party in the meantime is not only registered but put up a candidate in Joe Hockey's old seat and attracted 2% of the vote for a first time candidate, Lou Pollard, (a local Clown Doctor) in a party most people hadn't even heard of in North Sydney.