Freelance cameraman to post production video editing.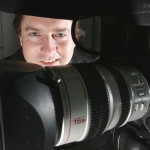 We cre­ate mul­ti­me­dia that engages, informs, delights and enter­tains – be it print, web-based, video record­ing, or still pho­tog­ra­phy. We can cre­ate your mar­ket­ing mate­ri­als for your web­site; pho­to­graph peo­ple, places and events; or shoot video for train­ing or pro­mo­tion­al pur­pos­es. Whether shoot­ing or post pro­duc­tion video edit­ing or both we have the ser­vices for you.
One stop shop for cameraman to post production editing.
Prin­ci­pal John Haly has an exten­sive back­ground in the IT and arts indus­try that spans a his­to­ry of stage and dance per­for­mance, teach­ing, act­ing, video pro­duc­tion, design, and pho­tog­ra­phy. As a cam­era­man with a vari­ety of HD cam­eras he has worked as a video­g­ra­ph­er in the field and in his post pro­duc­tion stu­dio film edit­ing via a suite of com­mer­cial film pro­duc­tion equip­ment hard­ware and soft­ware. He's also a self-described 'geek' with exten­sive expe­ri­ence in dynam­ic web devel­op­ment, cod­ing, main­te­nance, and IT sys­tem sup­port to man­age the tech­ni­cal intri­ca­cies of film mak­ing, dvd pro­duc­tion or embed­ding web video. He also has a back­ground in image manip­u­la­tion and image repair from pho­to shoot to Pho­to­shop that can take your mugshot to a pro­fes­sion­al pho­to ren­der­ing a repaired image to delight.
Our pur­pose-built stu­dio is based in New­town, Syd­ney, but we can ser­vice clients fur­ther away through innu­mer­able inter­net based tech­nolo­gies. You can con­tact John via Skype @ halyucinate.
Alter­na­tive­ly con­tact us via email to find out how we can be the one stop shop for your pre-pro­duc­tion cam­era­man film­ing to post pro­duc­tion video edit­ing needs.
Save
Save
Save